Bookkeeping is important for companies of any scale, but it is also time-consuming. Many corporations are trying to keep up with their accounting, and if they make mistakes, this can lead to a lot of problems. As a result, several people decide to outsource their bookkeeping and accounting workloads.
For most business owners, when they are considering outsourcing their bookkeeping, they are mainly thinking of the costs of paying the bookkeeper. However, the fees paid for the outsourced bookkeeping services should only be a small part of the consideration. There are numerous tangible and intangible benefits that comes with outsourcing bookkeeping, and we have listed down some of the more important ones below.
You Can Spend Time on More Important Things
Imagine two business owners in Singapore who start the same business simultaneously in similar cities. One of the business owners outsources the bookkeeping function, and the other business owner does it himself, spending an hour every day on it. The business owner who tries the outsourcing bookkeeping services spends the hour freed up to focus on driving sales and the company's growth. Which business do you think will perform better after one year? Will it be the business that the owner has to spend 260 hours doing its bookkeeping or the owner who outsource their bookkeeping and has spent 260 hours focusing on sales and business development? Which of them would you want to be?
You don't need to be good at accounting if you own a business. Instead, you should be an expert in your field. A business owner has to wear many hats, you are the salesperson, the management, the cashier and even the cleaner, but what is the most important function of the management? The most important task is to bring in the sales and cashflow. The reason is that having a negative cashflow is the single biggest reason for the failure of business.
And, since bookkeeping is a back-end function, CEOs, CFOs, non-accounting team and office managers should not spend their time behind the books. They should be performing various more important tasks such as listening to your customers or knocking on doors to get more sales. It will result in greater productivity and growth for the business which is crucial to achieve its aim of profitability and healthy cashflow.
There are many more important things to focus on such as building a sales funnel or researching the competition which is essential to building up a viable business. Most business owners are good salespersons and outsourcing will allow you more time to drive more sales. Do not be penny wise and pound foolish as they say. You only have 24 hours each day as everyone does, spend your time wisely.
Access to Top Tools
By using bookkeepers that use online cloud accounting software, such as Xero, you can have more access to the top software in the industry. Many organizations cannot afford to pay for expensive accounting software solutions. Using cloud-based accounting and bookkeeping software will help reduce costs and offer many benefits, such as having a real-time view of your finances and reports. It will allow you to have real-time information on the business's cash flow, as mentioned above. Outsourcing can benefit these small and medium-sized companies with these tools as bookkeepers will know how well different tools perform.
In addition, a good system can keep organized records for years which is essential when the tax authority (IRAS) ever comes for the audit. It is also important to have an exit strategy in sight, when you want to sell your business the valuation will not be just based on the revenue and profitability of the business. The potential investors will judge the reliability of your records, the more reliable, the higher premium investors will be willing to pay for the business.
Expert Advice
How many business owners really understand the financial reporting standards or what kind of items can be expensed off? If you use your vehicle to drive to a meeting, can you expense the claim in the accounts? Does IRAS allow you to deduct the petrol expenses or the parking fees? It may not seem like a major issue but when the Company is subjected to a tax audit, you wouldn't want to be facing huge fines or even jail time for such mistakes.
You can have our knowledge and expertise which is gained over many years on your side.
Peace of Mind
Outsource our bookkeeping and accounting can give you and your team peace of mind. An experienced and qualified accounting expert can deliver timely and accurate accounting reports. It will provide you with complete insight into the financial health of your business. It will give you more time to relax and make informed decisions.
By outsourcing your bookkeeping services, you can rest assured that your financial data is correct. Also, it will greatly reduce the threat of fraudulent activities in the Company. A Singapore Fraud Survey conducted by KPMG-SMU in 2014 highlighted that internal fraud constituted 75% of fraud, up from 64% in 2011 – a massive red flag for companies and employees are the greatest perpetrators of fraud, as the survey found 58% of fraudulent activity was committed by staff, up from 47% in the same time frame.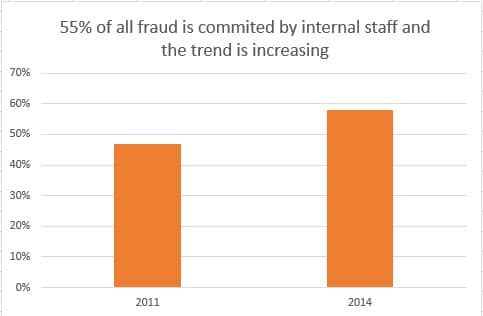 In our experience dealing with numerous small companies, we have detected employees siphoning money from the businesses, which would not have been found out if the employees were tasked with performing the bookkeeping function as well.
Scalability
Scalability becomes a huge challenge with an in-house team. If a company suddenly expands and needs a greater workforce, it can take many days to hire a new employee.
Moreover, a new employee needs time to settle down and resources to learn new skills.
By outsourcing your accounting, you can minimize huge investments in human resources, and technology and maximize the production. It will allow scaling and for the Compnay to respond to changes more quickly.
Conclusion
Be it a small enterprise or a large organization; knowing the revenue and expenses on a timely basis is crucial for making good decisions. Whether it is deciding how much to spend on advertising or whether to hire one more sales person, those are decisions that need accurate financial information. Smart business owners know that having timely and accurate bookkeeping records is not just necessary but vital for the growth of the company.
A competent outsourced accountant is the best thing you can do for your business. After considering the numerous advantages listed above, do you still think that monthly bookkeeping services is costly?
The right outsource accounting and bookkeeping firm can make a big difference to your company. They take care of payroll, accounting, bookkeeping, and back-office work so you can still focus on the other of your work.  So, get start on outsourcing your bookkeeping and grow your business to greater heights.
https://mlwhigjiqmhc.i.optimole.com/w:776/h:500/q:mauto/f:avif/https://pikai.com.sg/wp-content/uploads/2020/09/Should-I-outsource-my-bookkeeping.jpg
500
776
Stefan Ristic
https://pikai.com.sg/wp-content/uploads/2020/09/Pikai-logo.png
Stefan Ristic
2020-09-23 11:41:26
2021-02-22 09:22:42
Should I outsource my bookkeeping?